Premiered on September 2nd, only on Netflix
Everything changes forever when two lives collide.
Storyline
Collision Course is a heart thumping story told in 24 hours that dives deep into the lives of a law enforcement agent, a young man and some rogue elements(Tarz). It explores the seedy underbelly of rogue law enforcement officers and the atrocious results as they collide head on with a frustrated young man and a conflicted member of the police force. Collision is a race against time in a haze of palpable tension; it is a powder keg tethering on the brink of imminent combustion.
Collision Course was nominated in 6 different categories for the AMVCA;
Best Overall Movie
Best Soundtrack
Best Director
Best Movie West Africa (Won)
Best Cinematography
Best Picture Editor
Collision Course offically won the award of "Best Movie West Africa"
Collision Course has also been officially selected as the opening film for the Athen's Nollywood Travel Film Festival this year.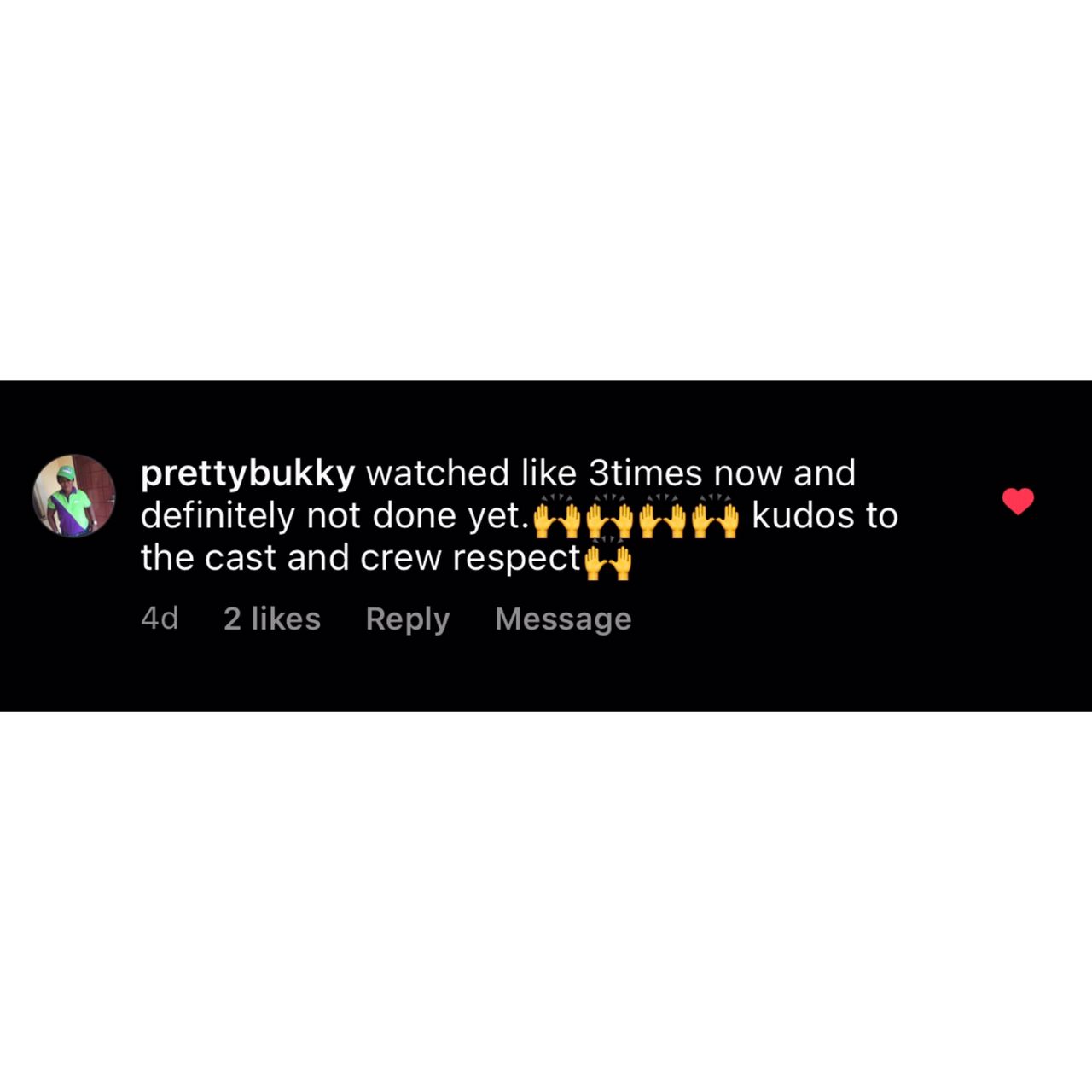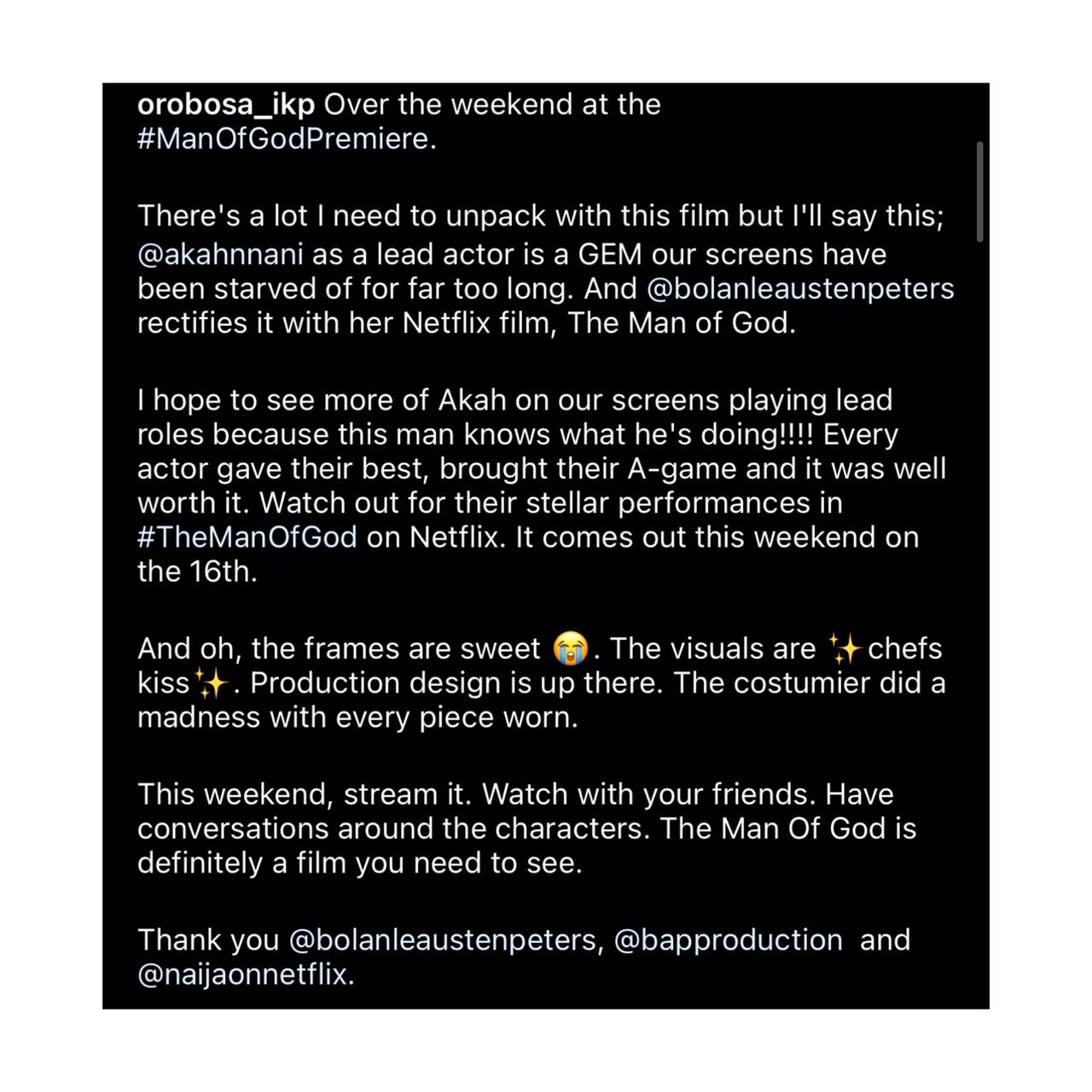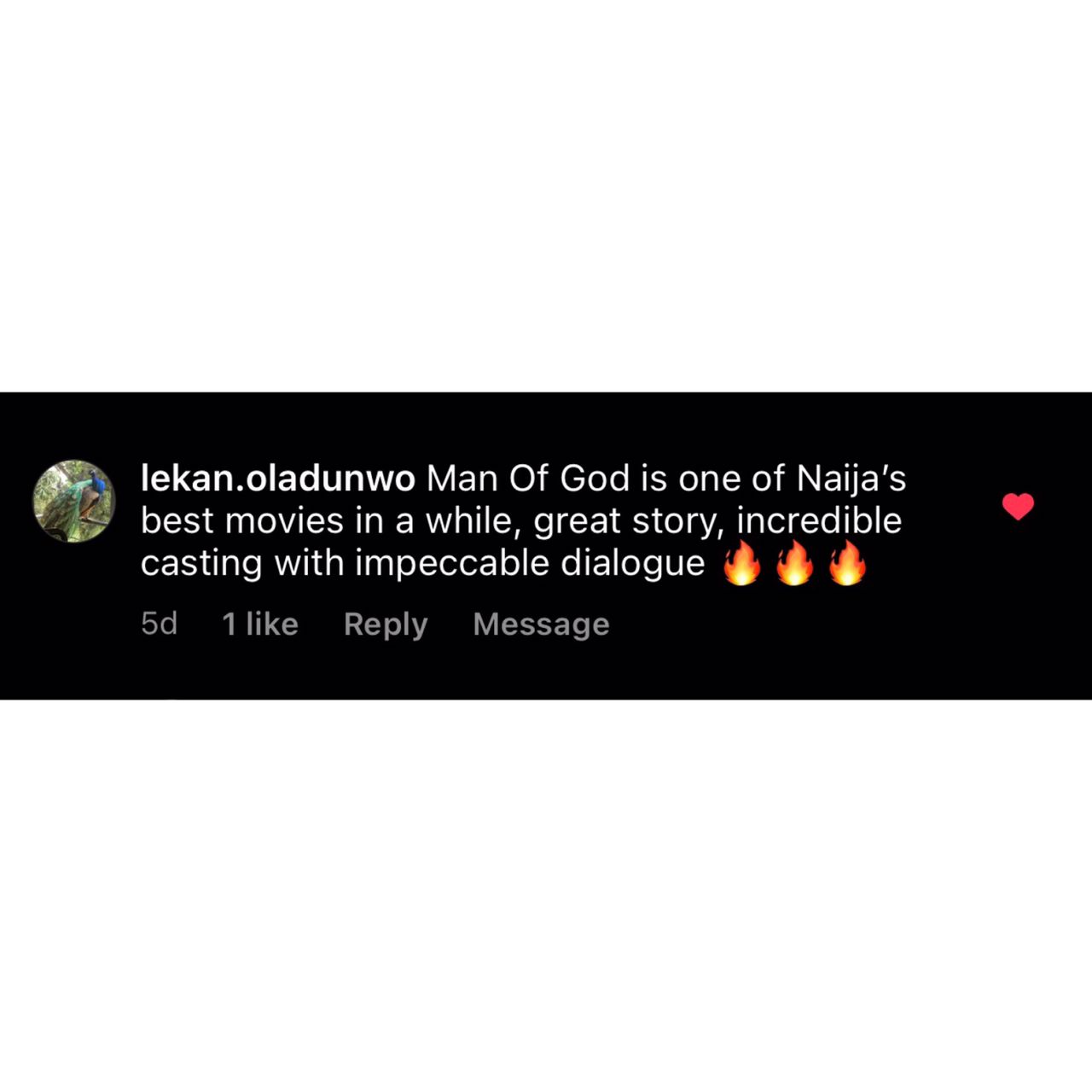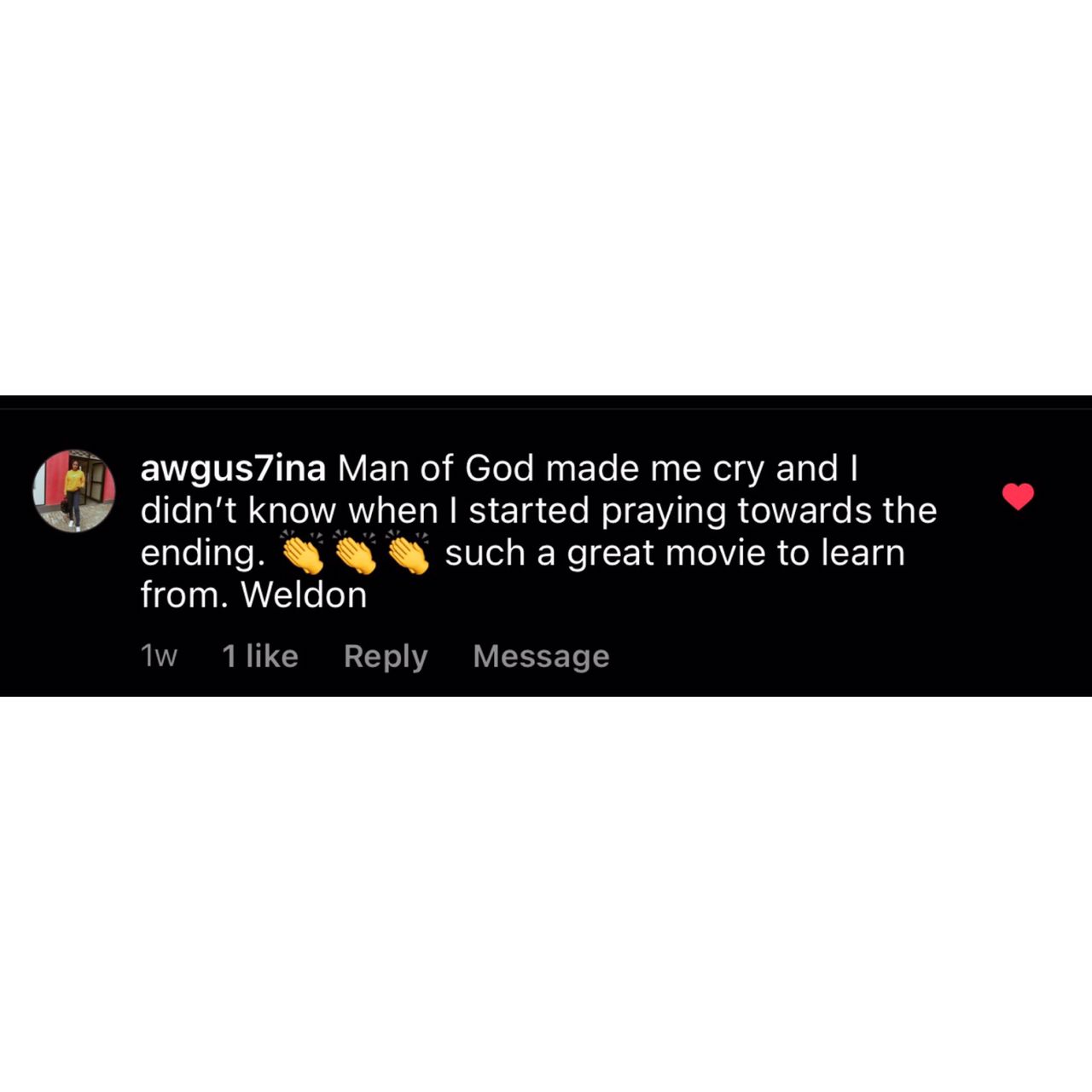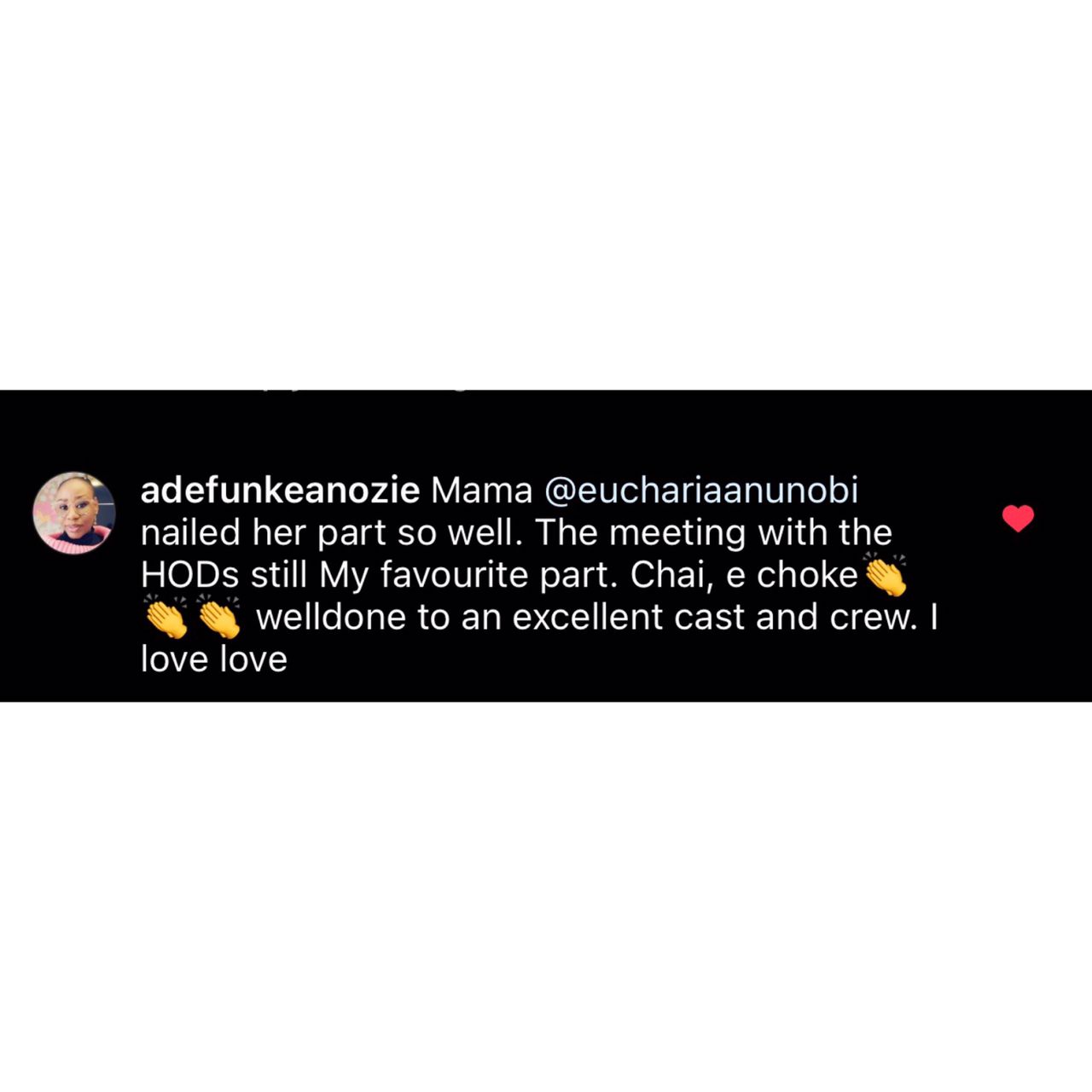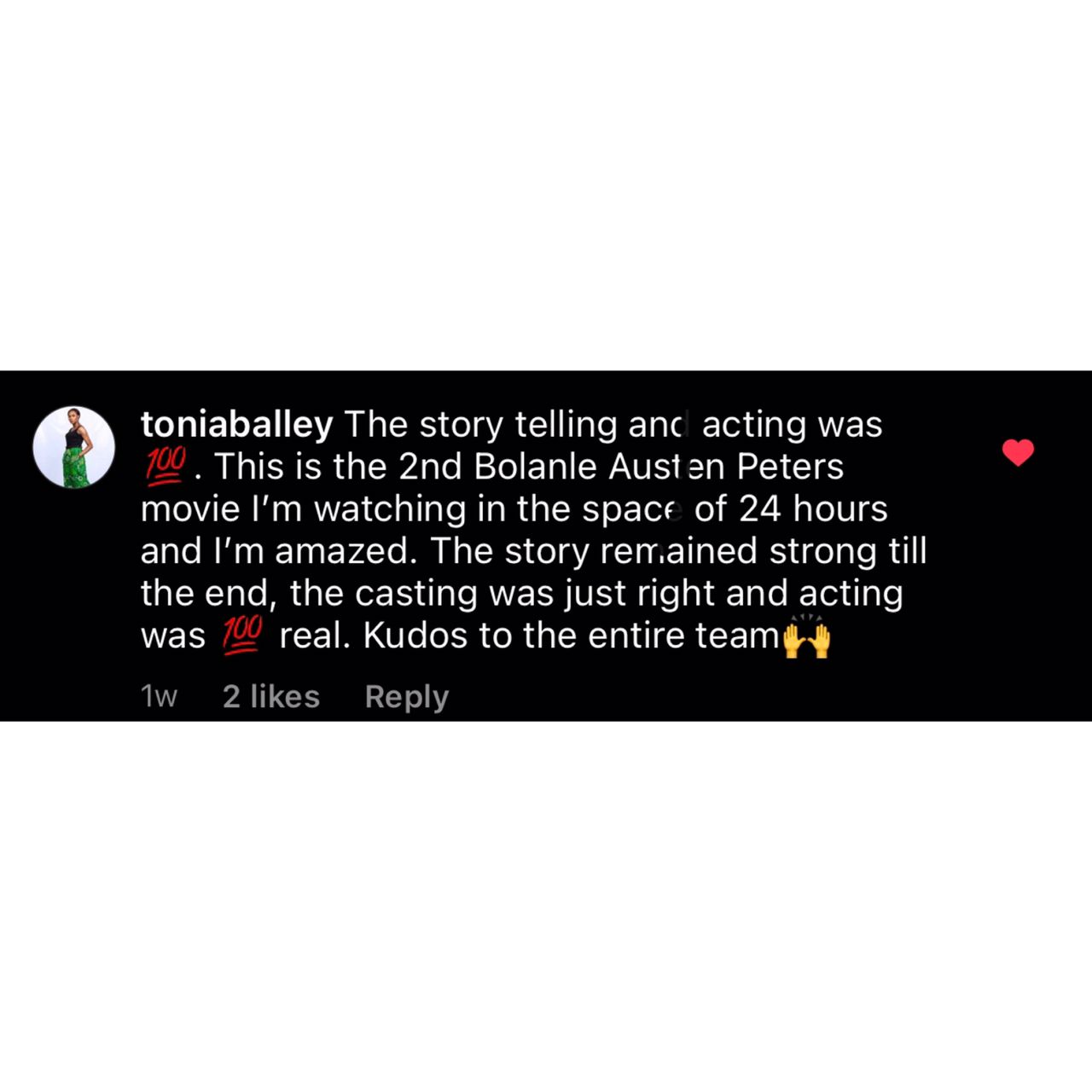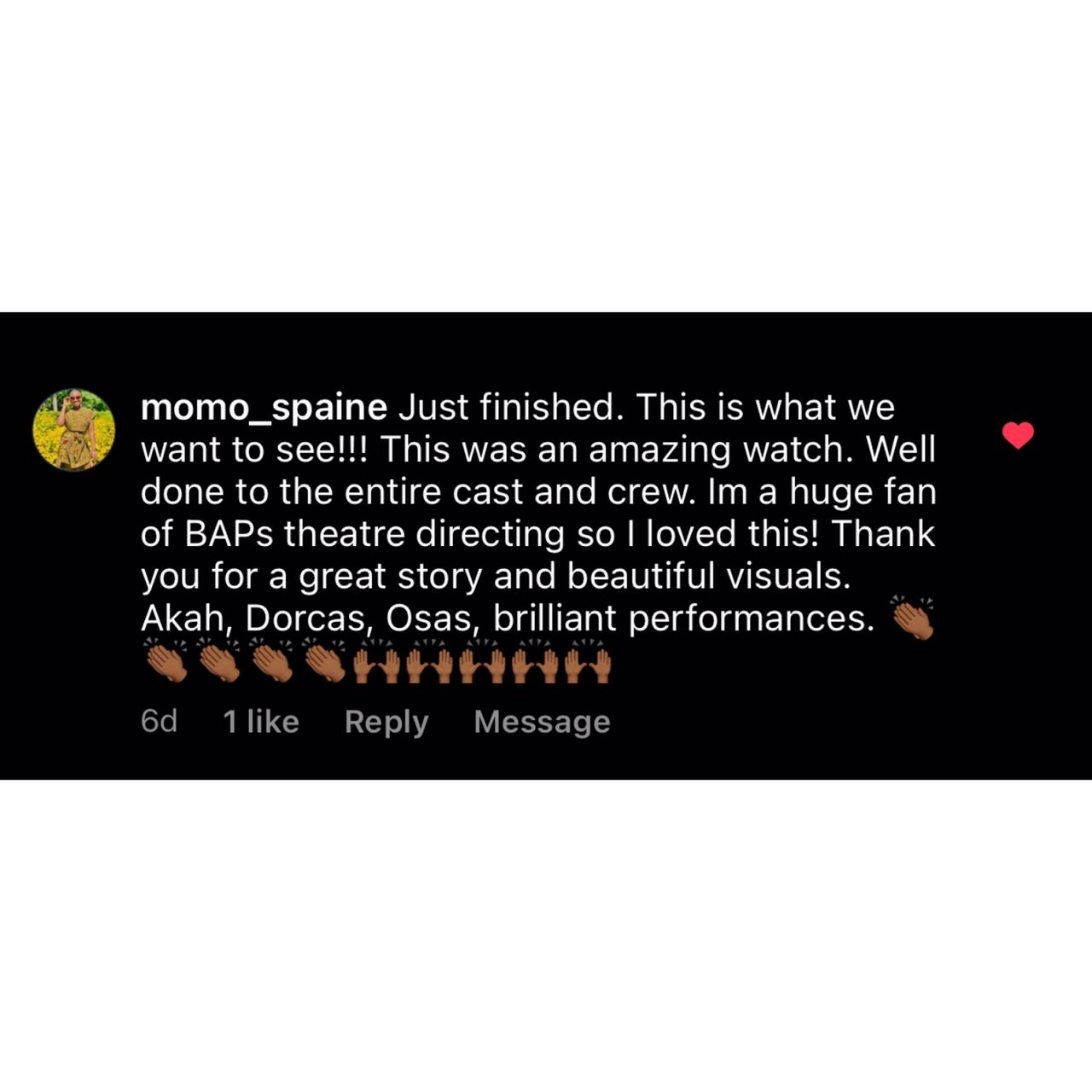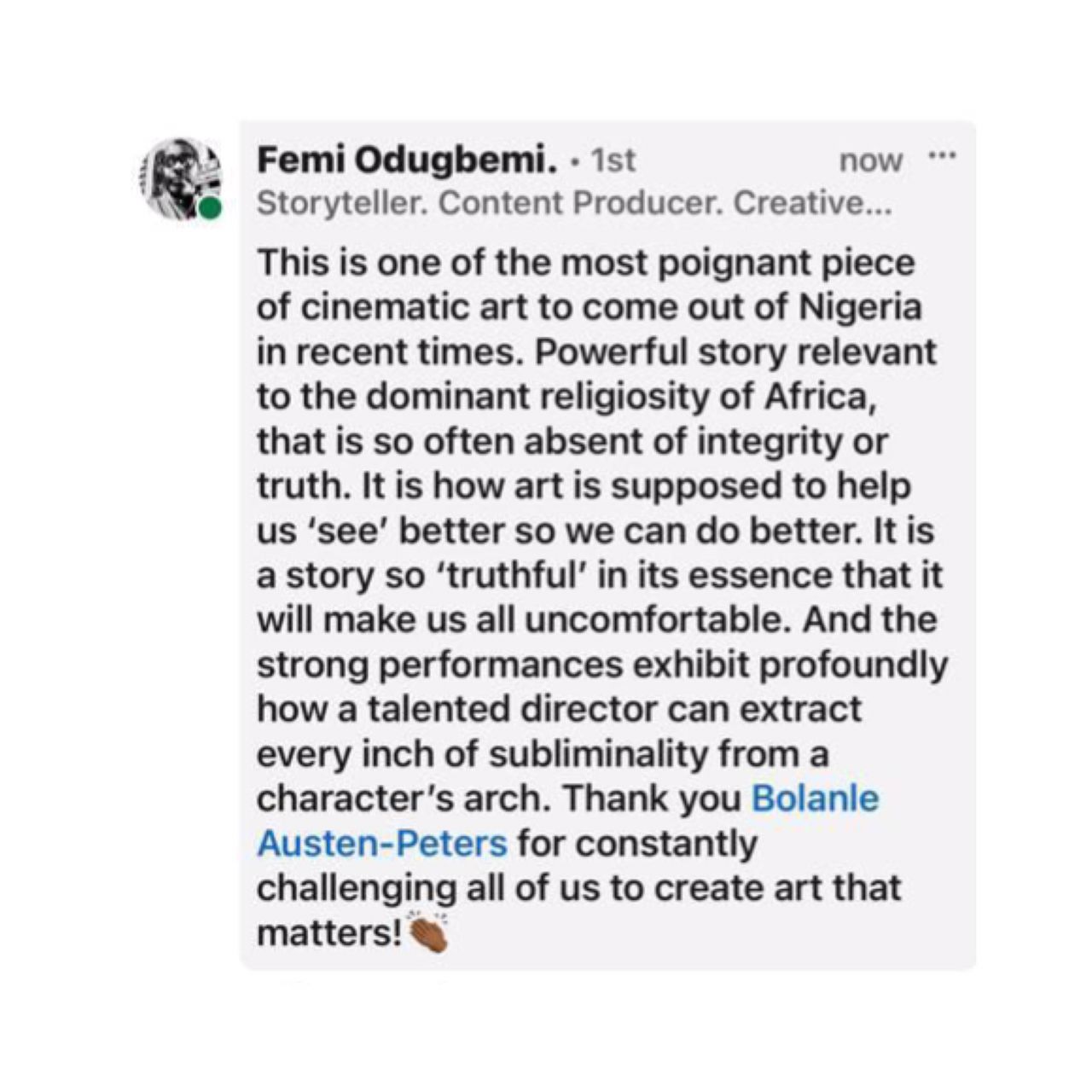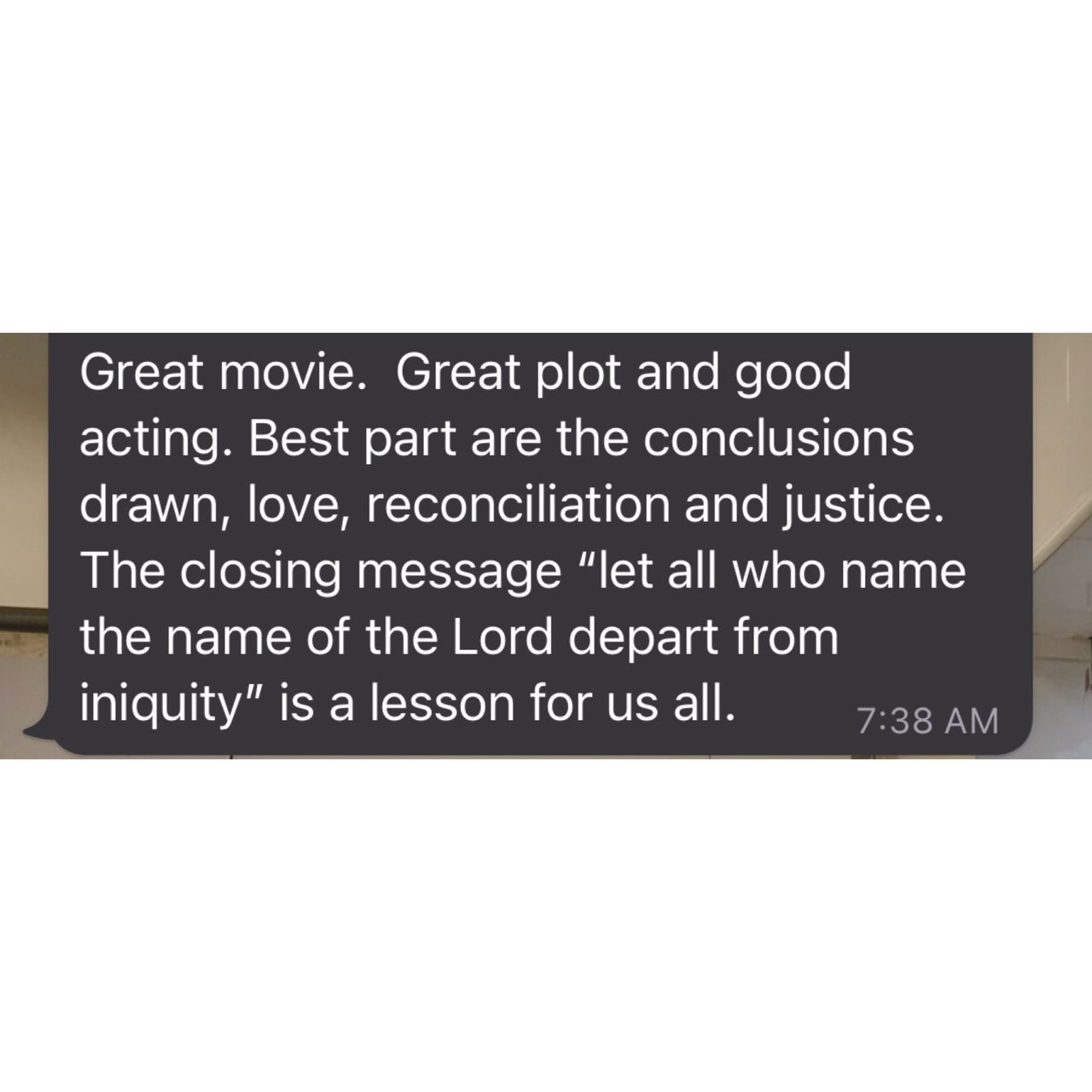 Lovely movie
April 26, 2022
I love the movie and have been trying to find the song in last scene. Something about "No place like home". Please help.
Man of God is a problematic excoriation of Pentecostal Christianity
April 25, 2022
Bolanle Austen Peters' latest film Man of God or The Man of God (there are two different titles it seems) is a familiar story of fall and redemption channeling the famous story of the biblical prodigal son.
The prodigal son is Samuel Obalolu aka Samuel King played by Akah Nnani who tired of his father's strict rules leaves his provincial home for Lagos where the action plays out on the campus of the University of Lagos.
There he meets childhood friend, Teju (Osas Oghodaro) and then the amoral Rekya (Dorcas Sola Fapson) who is a casual lover and dancer in his band. Along the line comes Joy (Atlanta Bridget Johnson). A love "quadrangle" ensues as Samuel tries to strike a balance between his academics, his musical aspirations and the love of three women.
Samuel is described as a covenant child in another nod to the Bible in the Old Testament story of Samuel whom God called to be a prophet. In rejecting his destiny, Samuel Obalolu struggles to get it right. While sleeping with Rekya and unsure of Teju's feelings, he falls in love with Joy who despite her Christian persuasion reciprocates only to break Samuel's heart in spectacular fashion.
Heart broken and depressed, Samuel in a classic case of a rebound relationship, falls for Teju and ends up marrying her. This is where the story finally picks up.
Married, Sam finds a job in a church run by Pastor (Eucharia Anunobi) and Bishop (Patrick Doyle). In presenting us with the corpulent and nasty couple, Bolanle Austen Peters gives us a snapshot of contemporary Pentecostal Christendom. Her expose is a devastating body slam that paints Christianity in very bad light.
Tired of the condescending attitude of the couple, especially Eucharia Anunobi's character who says to Samuel in a classic take down: "we don't pay you fat salary so you can dress fancy and look ridiculous. Remove that thing from your neck. It is entering the eyes of the girls," Samuel egged on by a friend and returnee lover Rekya decides to set up his own church.
Waking his wife up from sleep, Samuel announces with fake piety, "I just heard from God. He called my name three times. He told me to get into ministry like my father."
Ever the dutiful and loving wife, Teju does not miss a heart-beat as she expresses her unalloyed support. "I always knew there was a calling on your life ever since we were kids." This is despite the evidence she has found about her husband's shenanigans with young women in their church.
Handsome, charismatic and a beloved worship leader, Samuel sets up the Vineyard of Love ministries which becomes a roaring success in no time.
There is a particularly evocative scene in the film where Samuel now known as Pastor Samuel King arrives for service with his wife Teju in a convoy of luxury SUVs that will make many viewers laugh out loud because it is a true reflection of the superstar status of Nigerian Pentecostal pastors and it is ironically fitting that Mr. Nnani is playing the role of a charlatan after his very public denouncement of the head of COZA.
Many viewers familiar with the story of the COZA pastor and his public unraveling will find strong parallels thus making the narrative seem like something pulled from an online blog or twitter thread.
Bolanle Austen Peters' third film is in that sense a devastating excoriation of Pentecostal Christianity, a denouncing of charlatans masquerading as pastors and a comment on marriages of convenience.
Viewed from that prism, Man of God is a cautionary tale and all the players from Samuel to Teju, Rekya to Joy are victims of their own dissembling though if truth be told, Rekya is the only character who is under no illusions about what she wants out of life; hustle and get rich.
The rest are hypocrites from Joy who marries the wrong man, Teju who could not express her love for Samuel and so pines away only to finally share him with many others when she eventually gets him
Samuel on the other hand could be read as laboring under a cloud of predestination as a covenant child who must keep a date with his destiny.
The movie delivers as a slice of contemporary Nigerian life albeit from the point of view of Pentecostal Christianity but there are many loose ends. How come Rekya could not reach Samuel for days and so goes to his room to leave a note that says "where are you?" Why couldn't she call on a phone? And the lack of phones is irksome because while the timeline is not fully captured we see a flat screen TV in the house Rekya rents. Why is this so if the intention is to avoid anachronism?
The first time a phone makes an appearance is in the scene where Samuel's pregnant lover calls to harangue him.
All said, Man of God is a feel good movie unraveling at a sedate pace, the picture quality is good but the sound sometimes flags.
Plot-wise, Man of God is problematic in places with different threads in the story left hanging. How come no one on campus remembered him as the former musical artistes that used to thrill them with his Fela impressions?
On the whole, Man of God delivers with a spectacular cast. Dorcas Sola Fapson is the stand-out scene stealer. She is seductive, potty mouthed and as real as they come. The MTV Shuga alum is a one to watch and this film may well be the one that leads to great things.
Man Of God: Parenting, Personal Choices And Parable of The Prodigal Son
April 25, 2022
There are so many themes that resonate with me in this film, The Man Of God by Bolanle Austen-Peters.
What jumps out as a mom of two boys with different personalities is the nature vs nature argument.
Samuel, (Akah Nnani) the lead character, was a rebel from childhood when you're at your most authentic.
If only we could accept our children as they are rather than force them into a mould they will only shatter and shatter violently in his case, we'd have a healthier society.
Samuel was not Daniel, neither was he his dad. His father's strictness is obvious but his mother's passiveness was more insidious.
We heap opprobrium on mothers who turn a blind eye when their children are sexually abused but give a pass to those who mutter and murmur, wringing their hands while the father tries to beat the life (literally/figuratively) out of the child.
That double standard never occurred to me till Rekya (Dorcas Shola Fapson) asked Samuel what his mom did to deserve being rejected so.
The lovely Laila Johnson-Salami in her introduction (as the MC at the film's premiere) referred to the parable of the prodigal son which I've read hundreds of times but it is this movie that got me thinking. No one would just flounce off like that. The prodigal son may have also been sorely provoked as Samuel was.
That said, I'm in no position to condemn anyone's parenting. We're all doing the best we know how. Samuel's dad calls to mind a line from "Wuthering Heights", "Fear made me cruel".
It does.
Samuel's dad saw clearly that the embryonic instincts within his son when fully grown would destroy him. This was the way he tried to save him, to harm the body and preserve the soul. Samuel's charismatic performance of devil's music recalls Lucifer, the first musician and supreme archangel, so beautiful and so gifted. It is that musical talent that can lead to hubris and ultimately, a mighty fall.
Music intoxicates and he who creates it seduces as we saw with Samuel's tragic conquest, Josephine. If only Samuel had channeled his power into winning souls for God's glory, not his.
Samuel's Vineyard of Love church reminded me of Dostoevsky's "The Brothers Karamazov" where the Grand Inquisitor encounters Christ in whose name he had been conducting the Spanish Inquisition, burning "heretics" alive. He told Christ to leave town or his sentence of being burnt at the stake would be carried out. He said the church no longer needed Christ and him showing up now will ruin their mission. "We are not with Thee but with him," The Inquistor told Christ in reference to Satan. This is true of Samuel's church and so many others.
It's an extremely important service to humankind that the movie portrayed this.
Equally important is his arc of redemption (one hopes – a sequel please). "Though your sins be as scarlet, they shall be as white as snow." This is the power of God's love.
A distant second is that of family as his father and brother's embrace demonstrate. If he walked in to meet Teju (Osas Ighodalo) or Joy (Atlanta Bridget Johnson) he might have had a different reaction.
Speaking of which, the ladies in his life and his relationship with each one is as fascinating as the actresses' performances were riveting.
The homie-lover-friend, Rekya who lived fast and died young is easy to judge but without parental guidance it would have taken a miracle for her to have turned out any other way.
Teju started off with an unrequited crush on Samuel – and stayed that way. Even while married she never really got the guy and she knew it, the poor dear.
I was proud when she grew a backbone, threatened to destroy him and made good on that threat. This is a woman who saw irrefutable proof of Samuel's infidelity and couldn't even confront him much less breathe a word to anyone else, such was the strength of her wilful blindness. It just goes to show, everyone has their limits.
Although why she imagined a man she knew had cut his mother off wouldn't eventually discard his wife is beyond me. As for Joy Girl, this is the first time I've seen a different side to the undeniably cruel practice of ghosting. She really had no choice. Samuel would never have let her go without a messy fight and she might have caved seeing as she didn't leave because she didn't love him.
She didn't see him as the pastor she would have wanted to be married to and she was right. Even while he headed an organisation he was a charlatan and that sham wasn't a church. Might he have been different if he married Joy? It is possible but highly doubtful.
No amount or manner of nurture from her as his wife would change that nature he demonstrated from the jump. She made the right choice.
The performances were superlative. As a director, Bolanle Austen-Peters really outdid herself there. There were no weak links.
Akah fully inhabited all the facets and contradictions in Samuel. Teju's evolution or devolution from wide-eyed girl next door to ostentatious First Lady then scorned woman was deeply satisfying.
I was amazed to hear that Dorcas struggled to speak as Rekya and that she needed needed to coax her. She nailed it so perfectly, one might have assumed she was typecast.
Atlanta's soulful performance managed to maintain Joy's purity of heart and intention throughout the movie such that the audience fell in love with her just as Samuel did. The characters were fully realised.
The entire cast was fantastic as was the crew.
TRULY RIVETING IS THE MOVIE, "THE MAN OF GOD".
April 24, 2022
From afro-jazz to an evening at bible study. From nights of fun with daring Rekya to a cupid-awestruck heart for church girl Joy while childhood pal Teju fades away jealously, but momentarily.
The roller coaster Sammy sweetly dances between the grooves of becoming the next Fela or Billy Graham as love and career go all frenzy in the boxing ring to win the tussle.
Really thrilling is the movie, "The Man of God". Not just for its comely way of setting the puzzle of Sam's life piece by piece like cracking the codes of a treasured vault.
But also because we see ourselves reflected (in some manner) in the scenes of every dialogue that played out. From scurrying off from home to a land of far-far away for the pangs we felt at childhood. To falling in love with a guy or babe of direct opposite. To being loved by one to whom we have only a friendly bond with. Or trying to play church and God for our own gain or interests.
Really empathetic is the movie, "The Man of God", in portraying that we all indeed have phases where all may seem lost for a costly mistake we made. But if we just resolve to make amends and seek reconciliation; we would find healing and restoration through the willing hands opened wide to receive us.
And oh, how so heartfelt that will be, when amidst such reunion, we hear soulful lyrics which lets us know that we too, have been greatly missed and waited for…just like the British Patriotic song of the First World War,
"Keep the Home Fires Burning,
While your hearts are yearning,
Though your lads are far away
They dream of home.
There's a silver lining
Through the dark clouds shining,
Turn the dark cloud inside out
'Til the boys come home."
NB ("Keep the Home-Fires Burning was composed by Ivor Novello in 1914, with words by Lena Guilbert Ford)